LintraMax Launches Cloud Plantation Management Software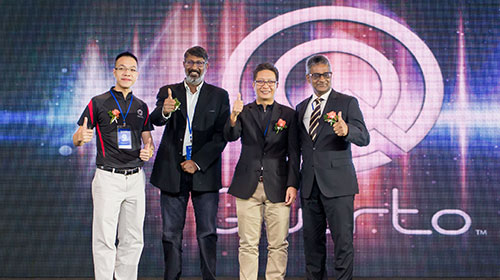 Petaling Jaya, Selangor (25 November 2016): LintraMax (M) Sdn Bhd ("LintraMax") is pleased to announce the official launch of Quarto, a cloud-based plantation management system solution. The launch was held in an event on 22 November 2016 at TPC Kuala Lumpur. The auspicious occasion was attended by LintraMax's family and friends, respectable business partners, as well as, esteemed clients and representatives of various palm oil plantation companies.
Quarto which began development in 2014, is a result of the mission of Mr. Khor Kheng Khoon, LintraMax's founder and managing director, to bring a new breadth of innovation to their product line and to further continue their commitment towards serving the plantation industry.
The launch ceremony held last Tuesday was marked by presentations and speeches. Mr. Khor Kheng Khoon kicked off the ceremony with a presentation that drew attention of the audience to his profound commitment in making Quarto a reality.
Next speaker was Mr. Gopi Ganesalingam, Vice President, Enterprise Development Consulting, Malaysia Digital Economy Corporation Sdn. Bhd. (MDEC), where Quarto, a product that is partially funded by the organization through its program of Product Development and Commercialization Fund (PCF), and, followed by a speech by Mr. Dinesh Nair, Director, Developer Experience and Evangelism, Microsoft Malaysia who explained Microsoft Azure which is a cloud platform that Quarto is based on.
Mr. Chong Yong Khong, LintraMax's product manager, was our final speaker of the day and he presented Quarto in greater detail. This was followed by a video presenting Quarto was on display for the audience to mark the ending of the launch ceremony.
Throughout the launch event, there were also Quarto product demos which received an enthusiastic response from the guests. LintraMax dedicated team members were on site briefing the guests on how Quarto can help simplify various aspects of plantation activities. They also had an opportunity to view Quarto in action on smartphones, tablets, laptops, and on desktop computers.
Quarto is available via a subscription basis directly from LintraMax. To request for a free Quarto demonstration, get in touch with us here! You can also contact LintraMax at 03-7957-7585 or via email at sales@lintramax.com.
About Quarto
Quarto is an all-in-one cloud-based plantation management system which allows companies to manage their plantation business on a single system that supports various key operation functions. It helps users streamline plantation workflows and increase productivity of their business. 
Quarto simplifies plantation operations through automation of various estate and head office functions such as worker checkroll, staff payroll, procurement, inventory management, vehicle management and company accounts. Offered as a Software-as-a-Service (SaaS) model, Quarto cloud system is available on a subscription basis directly through LintraMax.