Why should Southeast Asia turn to agritech?
Southeast Asia is home to some of the most agriculturally productive countries in the world. The region's humid and temperate climate provides good environmental conditions for crop growth. It comprises 11 tropical countries, and major crops produced by these countries include rice, corn, palm oil, tea, rubber, and coconut, among others.
As a major economic force in ASEAN, 2021 saw the agriculture sector contribute 23% GDP each in Cambodia and Myanmar, 15% in Vietnam, and 14% in Indonesia. Additionally, agriculture is also a major employment source, with the Philippines providing employment for a sizable 29% of workers and Laos at 72%.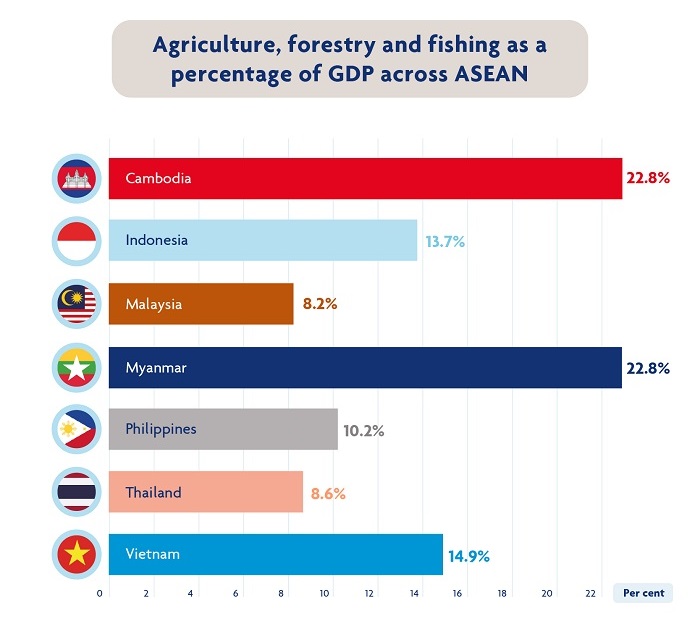 Source: World Bank
ASEAN is short for the Association of Southeast Asian Nations. Its vision in the agriculture and food sector is to prioritise food and nutrition security and prosperity. So, how is Southeast Asian countries achieving this vision amid agriculture and food system challenges of recent times?
Evidently, the answer is agritech.
Technology, key to agriculture growth
Only 2.5% of 71 million Southeast Asian smallholders in the region use digital agriculture solutions? Grow Asia estimated this staggering amount in 2019 after releasing a directory of 60 leading digital solutions used by smallholders in the region.
Well, that was three years ago. Comparatively, the region's agriculture industries have undergone rapid technological transformation in the past decade.
Despite the skill-oriented nature of farmers here, things are changing. For one, we no longer lag far behind the more mechanised Western agriculture. In fact, new and innovative solutions are continuously being explored to improve farming practices and increase crop yields. Besides that, more and more countries outside the region are looking into digital partnerships and new ventures, to invest in Southeast Asia's agritech potential.
A connected agritech ecosystem
Regionally, Southeast Asia must strive to achieve a "connected" agritech ecosystem. By doing so, it could propel agriculture forward and build a resilient food supply chain.
However, supporting regional agritech ambitions will require commitment. Most countries within the region are socioeconomically and geographically similar. As such, collaboration among countries in R&D could unlock the untapped potential of agritech.
To develop deeper links between the countries' agriculture and technology communities, coordinated efforts must be put into action. This would include not only developing regional standards and guidelines, but also facilitating exchange of knowledge and information. Also, another initiative is to invest in regional capacity building in agritech to further these efforts.
5 Southeast Asian countries, 5 agritechs making an impact
There are many technologies transforming Southeast Asia's agriculture industries. Let's take a look at some noteworthy examples from five countries.
Thailand
In Thailand, the Digital Economy Promotion Agency (DEPA) has partnered with disabled farmers to install a digital irrigation system controlled by a mobile app. The system consists of automatic water sprinklers with temperature control. As a result, farmers can perform watering with just a click of a button.
Singapore
For a country half the size of London, Singapore's vertical farming technology has provided a solution for scarce land – on rooftops!
Vertical farming using hydroponics produces vegetables for Singapore's dense population without requiring soil and pesticides. The country has designated more than 10 rooftops to grow over 2,000 tonnes of vegetables annually. This technology aims to reduce the country's food imports, which is currently more than 90%.
Vietnam
E-commerce platforms to sell agriculture products have proven to be a fruitful venture in Vietnam. On July 21, 2022, Vietnam's Ministry of Information and Communications issued Decision 1034 to support agricultural production households on e-commerce platforms.
One exemplary case is the northern province of Bac Giang. Through online trading platforms, the province sold over 48,000 tonnes of oranges and 36,000 tonnes of pomelos in the last months of 2021 and early months of 2022.
The Philippines
The Philippines' cooperation with China through the 22-year-old Philippine-Sino Centre for Agricultural Technology (PhilSCAT) Programme has served technological breakthroughs in hybrid rice research.
Presently, PhilSCAT is cultivating 226,500 hectares of commercial hybrid rice, boosting yields by 308,000 tonnes and benefitting more than 134,000 farmers.
Malaysia
The palm oil sector is a major contributor to Malaysia's economy. Industrial plantations that run large estates and own palm oil mills are turning to digitalisation of processes to ensure increased yield, maximised efficiency, and better profitability.
One such agritech system is the Quarto plantation management platform. The all-in-one cloud platform automates data processes in plantations. Specifically, these processes range from payroll processing to finance and budgeting, stock procurement, and more. It also integrates with the weighbridge system and in-the-field mobile app.
Plantation directors, finance managers, accounts clerks, and field supervisors could benefit from Quarto with end-to-end digitisation of the value chain. The platform not only allows for better control and visibility into operations with powerful data processing, but also supports automated approvals, dynamic reporting and includes added functions of maps and analytics.
If you're interested to know more about agritech with Quarto, let's have a chat!